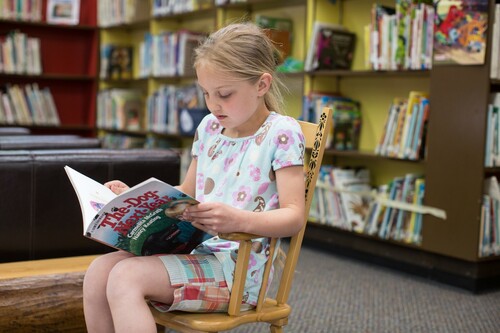 Literacy is more than the ability to read and write. It encompasses all facets of communication – reading, writing, speaking and listening. Literacy is critical to students' future success. 
Today's world depends on information, and it is coming at us faster than ever before and from a complex myriad of traditional, digital and emerging sources. Sturgeon Public Schools focus on literacy so students can see, connect and understand these complexities, and therefore better navigate and succeed in their futures.
Guided Reading Program
Guided Reading is a program offered at our elementary schools. It involves organizing students with a similar level of reading into small groups. Small group instruction is effective because the teacher can focus precisely on what the students need to move forward in their development. The difficulty of the material is matched to the group's abilities, so just the right amount of challenge is present.
The groupings are dynamic and flexible. Teachers regularly change the composition of the groups to adjust to the different learning needs of the readers. 
Research shows that guided reading is an important part of a quality literacy program. It is one of the most modern methods of teaching reading. And it is accepted as a particularly appropriate strategy for children who are moving toward fluency in their literacy development.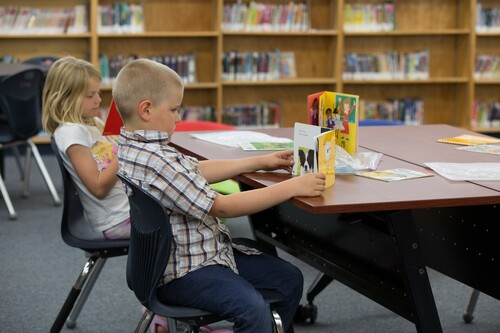 Literacy Backpacks
Literacy Backpacks is a program that helps spark and maintain enthusiasm for reading among elementary students. With the program, students are able to take home a themed backpack with broadly ranging topics.
Backpacks include reading material, journals and interactive workbooks, as well as tips and ideas for parents to help build the literacy of their child in fun and enjoyable ways. Through the program, literacy learning continues at home and everyone becomes a participating member.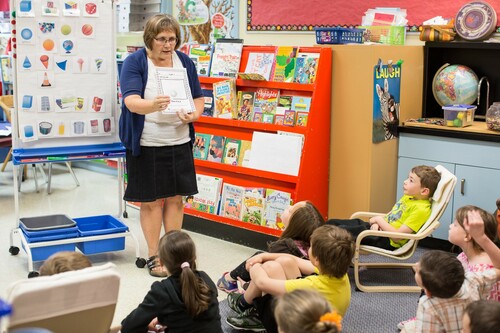 Paired Reading Program
Paired Reading is an organized program offered at our elementary schools. It pairs adult volunteers one-to-one with a young student. They read a book aloud together at a pace the student sets. Eventually the adult reader stops reading and the student continues on, with support and help given as needed.
This program is a very effective technique for reading practice. Children improve their literacy skills, gain confidence and enjoy the quality time with adults and books. 
Parent Resources
There are an abundance of resources that exist to help parents encourage literacy and/or support a struggling reader at home. Here are a few of our recommendations:
AdLit.org - AdLit.org, or All About Adolescent Literacy, supports parents and teachers of students in grades 4–12. Take a look at this site if you have older children because it offers information on college readiness and awareness. Another highlight is the "Ask the Experts" page, which allows you to submit questions about students and reading so a team of experts can help you find answers.
K12 Reader - This site offers free reading instruction resources for teachers and parents. If you're looking for practice materials for your child, you can find worksheets and detailed program supplements for reading, spelling, sight words, grammar, phonics, comprehension, writing, and more.
Oxford Owl - This is a reading and math website that helps children ages 3 to 11. The "Expert Help" tab of the website's reading portion offers resources on helping struggling readers, encouraging reading, and working on issues including phonics, grammar, punctuation, and spelling. Check out the ideas Oxford Owl suggests for games and activities.
PBS Parents - PBS Parents offers two reading-related sections under the "Education" tab. The age range extends from infancy to third grade. The "Reading Activities" section lists great ideas for reading on the go, making it easier for you to fit in practice throughout the day. If you're looking for book recommendations, the "Bookfinder" feature is an excellent tool that allows you to search by age, book theme, keyword, and whether your child intends to read aloud or silently.
Reading Rockets - On Reading Rockets, visit the "Helping Struggling Readers" page if your child is having trouble learning to read. Click on "Start the Target the Problem!" activity to open a tool that defines a variety of reading difficulties, such as fluency and comprehension, and explains how kids, parents, and teachers can recognize signs of the difficulty. This tool also links to a "How to Help" page, which offers tips to both children and their parents regarding how they can work on the issue.
ReadWriteThink - The International Reading Association and the National Council of Teachers of English are a couple of the partners sponsoring ReadWriteThink, a website that offers resources for grades K–12. Under the "Parent & Afterschool Resources" tab, visit the podcast section to find book reviews for different age groups. You can also find links to the "Activities & Projects," "Games & Tools," "Tips & How-To's," and "Printouts" pages.
Scholastic - In the "Parents" section of Scholastic, look for resources under the "Books & Reading" tab, such as Reading Resources & Help for Ages 8–10. A new feature that stands out is the e-reader app, Storia.
For parents of struggling readers - Read this article, 10 Things Parents Need to Know to Help a Struggling Reader, written by a special education teacher who helps struggling readers with different disabilities.