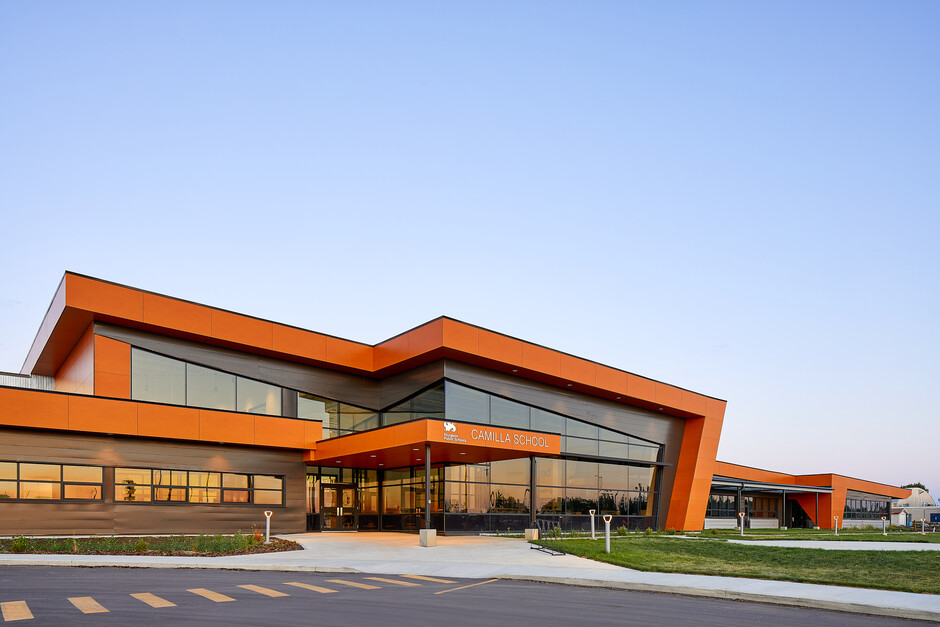 Camilla School
Opened in April of 2021 in the hamlet of Rivière Qui Barre, Camilla School offers English programming for students from Pre-K to Grade 9. The school is a progressive, student-centered environment with a capacity for 600 students and serves the west Sturgeon County area.
The design of the school includes a bright spacious learning common, two modern science labs, a seven-kitchen foods lab with modern appliances, and several breakout spaces for students to work independently or in small groups. Teachers and students can access the outdoors from their classrooms to take advantage of hands-on, collaborative learning spaces outside.
At the heart of the school is a tribute to its rich history with a replica of the old Camilla school house that's used as a breakout space. The school's Indigenous connections are showcased throughout, and a Cultural Circle is used for many out of classroom activities.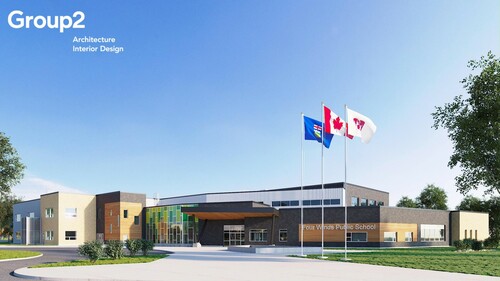 Four Winds Public School
Opened in September 2019 in Morinville, Four Winds Public School offers English and French immersion programming for students in grades 5 to 9. The two-storey school has a capacity of up to 600 students and also has the potential for a phase 2 that would accommodate up to 400 high school students.
In the school name, "Four" represents the four seasons and four elements on the medicine wheel, and "Winds" represents the four directions of the world. The design of the school includes studios for dance and drama instruction, and classroom pods for robotics and technology. Several large indoor garage doors reinforce the open plan theme, intended to help foster expansive learning. Teachers and students are able to free flow, using the open space as well as the classrooms. Designed to connect students with nature, additional features of the school include an outdoor classroom, a learning garden and an amphitheatre.
Some of these spaces are named to honour individuals who were lifelong advocates in education, including the Donna Hunter Learning Commons, the Thelma Chalifoux Learning Garden and the Audri Kowalyk Science Labs.
Donna Hunter Learning Commons
Ms. Hunter was the public face of the local community's desire for secular education in the Town of Morinville. She was poised, well-spoken and always respectful in the face of opposition and conflict. Without her ongoing commitment to change and her willingness to take responsibility for the secular school movement and to persevere on behalf of those who supported local access to public education, the present Morinville Public School and the new Four Winds Public School would never have been available to the students of Morvinville.
Over the course of several years, Ms. Hunter never failed to demonstrate courage in the face of adversity as she fought for the rights of citizens in the community. Her willingness to stand up for what she believed was right and just, even when it went against the norm and was unpopular amongst some, is a trait that we seek to instill in the leaders of tomorrow. When it was required, Ms. Hunter took her cause beyond the boundaries of her local community and insisted that provincial lawmakers as well as national organizations and media representatives make themselves knowledgeable about the issues and the rights of citizens. She informed and educated herself and used her factual knowledge to make her case. Throughout, she modeled courage and determination, a collaborative spirit and a desire to create a better community for all.
Thelma Chalifoux Learning Garden
Dr. Thelma J. Chalifoux (born Feb 18, 1929, in Calgary Alberta) is a former Canadian politician and teacher. She was also the first female Metis to receive the National Aboriginal Achievement Awards, now the Indspire Awards. The Honourable Senator Dr. Thelma J. Chalifoux was appointed to the Canadian Senate by Prime Minister Jean Chrétien on November 26, 1997. She became the first indigenous person appointed to the Senate of Canada and served until February 8, 2004, when she retired at the age of 75 and returned to Alberta. A history maker and trailblazer, prior to her appointment, she worked as a teacher and community organizer and was very active in both local and national Metis communities. In Slave Lake, she started the Native Friendship Centre in the 1970s and she ran the first safe house for victims of domestic violence. Upon her retirement from the Senate, she founded the Michif Cultural and Resources Centre (now the Michif Cultural Connections) in St. Albert, an organization devoted to preserve, protect and promote the rich Metis culture in Northern Alberta.
As the Matriarch of a large extended family of more than 70 children, grandchildren, great-grandchildren and five great-great-grandchildren, she was a great example of grace under pressure, an individual who had the courage to keep going no matter what challenges she faced. She uplifted spirits—changed hearts and minds for the better and left this world a far better place than when she found it. Dr. Chalifoux is to be celebrated and honoured for her tireless advocacy for social justice and women's rights, especially for indigenous people. She had a strong spirit, a forceful voice, a passionate commitment to education and an infectious sense of humour. Throughout her life, she exemplified the deep qualities and characteristics of humanness and services to others that will be a guiding inspiration for the students of Four Winds School.
Audri Kowalyk Science Labs
Ms. Kowalyk was a dedicated and inspirational teacher and mentor at Morinville Public School before her untimely death in December 2017. Her colleagues celebrate her for helping, supporting, guiding and encouraging them in weaving inquiry-based learning throughout their science curriculum. As a hands-on and inquiry-focused teacher herself, Ms. Kowalyk ensured her lessons were exciting and engaging for students. She often took real life situations and encouraged students to see the science inherent in them. When Fort McMurray was struck with devastating wild fires, she turned her students' attention to not only the human side of the tragedy, but also the related scientific concepts included in their curriculum. In addition, through her creative and focused approach to teaching, the inclusion of numerous projects, experiments, audio-visual supports, demonstrations and captivating challenges, to name but a few, Ms. Kowalyk brought science to life and modeled what great teaching is all about. Her contributions as a teacher representative in the design consultations for Four Winds Public School are reflected in the science labs that students will enjoy and the goal Ms. Kowalyk set was that students should be active partners in their own learning and that the spaces in which they learned would be welcoming and exciting for all students, conducive to exploration and inquiry and connected to life and nature.
During her last years of life, Ms. Kowalyk demonstrated a spirit of strength and optimism even in the face of personal adversity. Despite her illness and associated treatments, she faced every day with a positive spirit and a sense of humour. She continued to work with her students developing a sense of wonder and curiosity that will carry them forward throughout their educational experience. Ms. Kowalyk's name has been put forward by her school colleagues who describe her as an example of the type of educator they would aspire to be and an individual whose qualities and characteristics will be inspirational to the students at Four Winds School.
Sturgeon Composite High School Modernization
Sturgeon Public Schools is thrilled to have completed a major $35 million modernization at Sturgeon Composite High School!