Land Acknowledgement
Sturgeon Public Schools respectfully acknowledges that we teach, learn and grow together on Treaty 6 territory and Homeland of the Métis. We honour and respect the history, languages, ceremonies and cultures of the First Nations, Inuit and Métis peoples who have called this land home for countless generations. We recognize the Cree, Saulteaux, Blackfoot, Métis, Dene, Nakota Sioux and Inuit for their care, love and stewardship of this place.
We are grateful for those who share their knowledge with us and help to foster a respectful relationship with all of our relatives on this land. We are committed to understanding the harms done in the name of education and continuing to learn to honour the true spirit of Treaty 6 as a promise of friendship, collaboration and a peaceful alliance.
Education for Reconciliation
Sturgeon Public Schools supports education initiatives that create safe, caring and inclusive learning environments. Through Division and school education initiatives, our goal is to deepen our students' understanding and respect for First Nations, Metis and Inuit culture, to meet the needs and enhance the experience of our students, and strengthen Indigenous perspectives in our curriculum.
Our schools work with parents and community members to implement innovative programs and strategies that support the success of First Nations, Métis and Inuit students, and benefit the entire school community.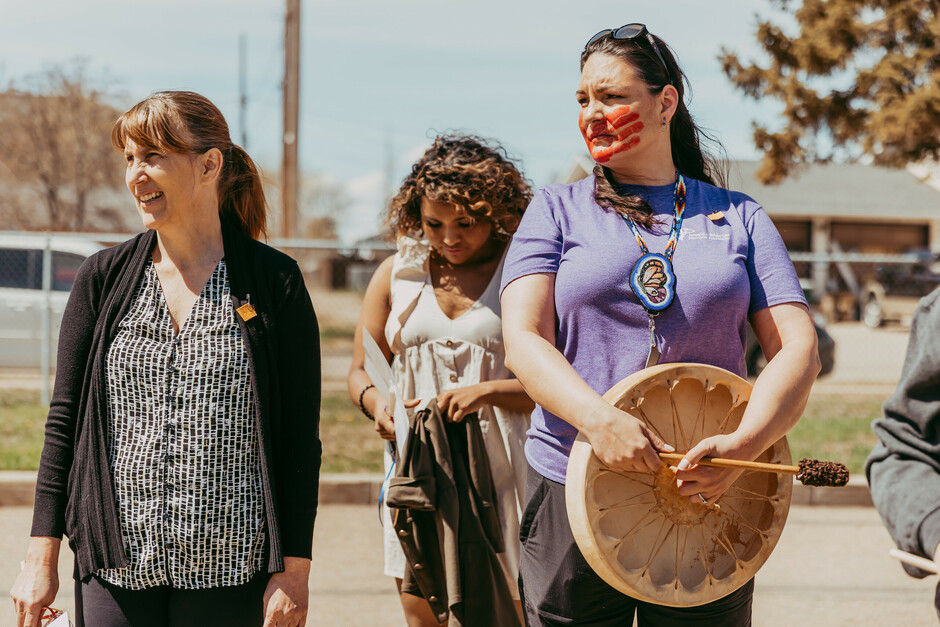 Guiding Documents
Division Initiatives
Call to Action Cohort
Each Sturgeon Public School has a lead teacher who participates in the Call to Action Cohort. The Cohort meets regularly to discuss successes and challenges in the schools as well as explore new resources. The Cohort also participates in learning opportunities such as visiting the St Albert Heritage Museum and taking part in the Indigenous Peoples Experience Educators Workshop.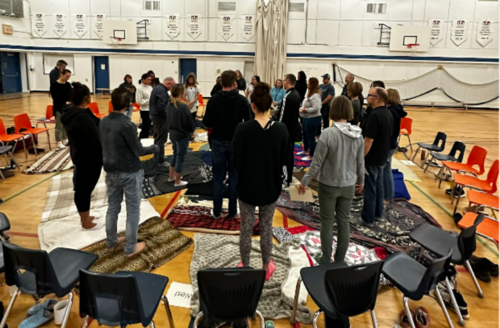 Blanket Exercises
Blanket Exercise participants take on the roles of Indigenous peoples in Canada. Standing on blankets that represent the land, they walk through pre-contact, treaty-making, colonization and resistance. Participants are drawn into the experience by reading scrolls and carrying cards, which ultimately determine their outcomes. By engaging on an emotional and intellectual level, the Blanket Exercise effectively educates and increases empathy. The exercise is followed by a debriefing session in which participants have the opportunity to discuss the experience as a group. This often takes the form of a talking circle.
Sturgeon Public Schools students in Grades 4, 7 and 10 participate in Blanket Exercises. Administrators, teachers and school staff also participate in the exercises.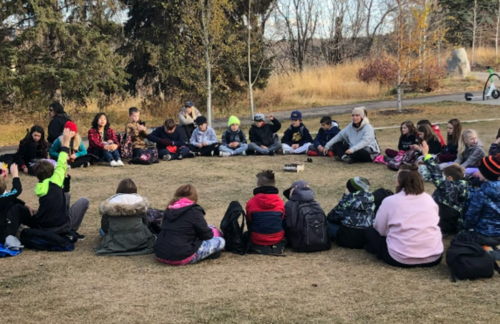 River Valley Walks
Students and staff participate in learning walks through the Edmonton river valley where they are guided through the Indigenous Art Park, Rossdale Burial ground and other areas of the Beaver Hills (amiskwaciy). Students and staff learn stories about this place and its history from Dr. Dwayne Donald or Taryn Donald, descendents of the Papaschase Cree. 
Land Based Learning
Sturgeon Public Schools has an incredible working relationship with Pioneer Trail North Foundation, a partnership which gives students the opportunity to learn on the land, from the land and with the land. Students participate in a variety of activities such as snowshoeing, archery, story stones, tipi teachings, cooking bannock and many more.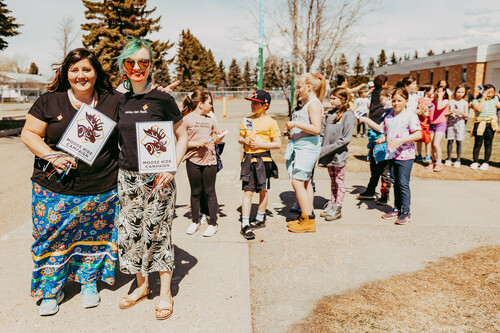 Continuing on our Journey
Moving forward, Sturgeon Public Schools will continue to build cultural awareness and understanding in schools by exploring new initiatives and implementing best practices. These include:
Continuing our Call To Action Cohort to Monitor Student Success and Build Capacity in Schools
Blanket Exercises for all Staff in the Division
Exploration and Implementation of Educational Resources
School Initiatives
Our schools offer a variety of indigenous education activities in support of our division goals.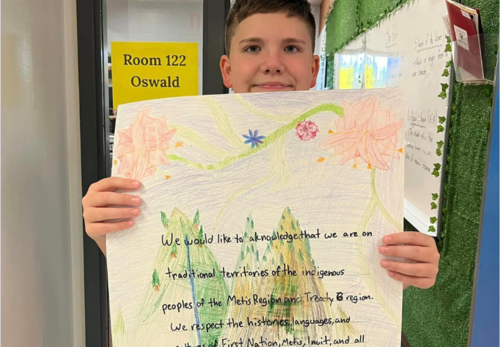 Truth and Reconciliation Week
Students and staff participate in learning activities throughout the week leading up to the National Day for Truth and Reconciliation. These activities include telling stories about the history and legacy of residential schools, creating personal commitments to reconciliation, and tuning into live events from the Truth and Reconciliation Commission of Canada.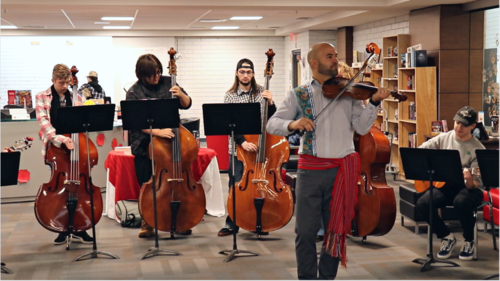 Métis Week
Students and staff participate in learning activities throughout Métis Week. These activities include learning about Métis literature, traditions, language, music and artwork. Students are also invited to learn about Louis Riel and the contribution he made to Métis Nation and its citizens.
Learning Resources
Our Indigenous Education Website is a valuable resource for both staff and students, dedicated to promoting Truth and Reconciliation. The website features a wide range of educational materials, including grade-specific resources for teachers to use in their classrooms, monthly newsletters, and focused content. Each month, the website highlights a different aspect of Indigenous education, including topics such as the history and legacy of residential schools, Indigenous role models, missing and murdered Indigenous women and girls, treaties and land agreements, Indigenous literature and authors, connections to the land, and much more.
Indigenous Games
The Indigenous Games are a celebration of Indigenous culture, heritage, and athletic talent. This event provides an opportunity for students to experience and learn about Indigenous traditions, while also promoting physical activity and sportsmanship. The games typically include a variety of traditional and modern athletic competitions, as well as cultural activities such as drumming, dancing, and storytelling.
Staff and students have had the opportunity to participate in Indigenous Games PD with Lyndon Suntjens. They learned a variety of games that can be used in Physical Education as well as hand games that can be used in Math class. Students and staff were also taught the traditional benefits of these games whether it be endurance, skills for hunting or building connections.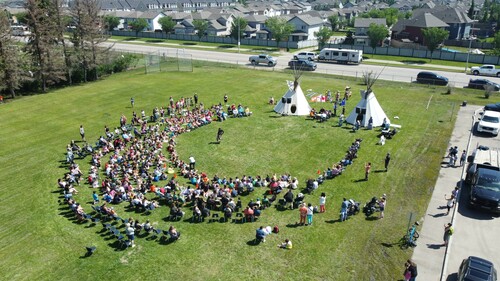 National Indigenous Peoples Day
Schools throughout our division recognize and celebrate National Indigenous Peoples Day. 
Staff Professional Development  
Each school is committed to participating in an Professional Development opportunity related to indigenous education that most directly supports their school vision goals. PD opportunities include: 
Edmonton River Valley Walk 
Star Blanket Exercise
Indigenous Math PD 
St Albert River Walk and Tipi Teachings
Land Based Learning–Indigenous Medicines
Other Education Initiatives
Some of the other ongoing initiatives at Sturgeon Public Schools include:
Truth and Reconciliation Week
Métis Week
A Call to Action Cohort Lead Teacher at Each School
Drumming Performances
Elder Visits
Trickster Theater
Land Based Learning Opportunities at Pioneer Trail North Foundation
Healing Gardens
Lunar Calendar Teachings
7 Grandfather Teachings
An Indigenous Student Success coach at Sturgeon Composite High School and Redwater School
An Indigenous Student Counsellor at Camilla School and Four Winds Public School
Smudging