French Immersion at Sturgeon Public Schools
The vision of French Immersion at Sturgeon Public Schools (SPS) is to empower non-French speaking students to become bilingual, unlocking the cognitive and social benefits that come with fluency in two languages. Our students will gain proficiency in both French and English, opening up a world of opportunities in international business, travel, and multilingual fields such as diplomacy, international relations, and humanitarian aid. Through our French Immersion Programming, offered at École Morinville Public School (ÉMPS), Four Winds Public School (FWPS) and beginning the 2023-2024 school year, Sturgeon Composite High School (SCHS), students will have the chance to develop a valuable skill set that will serve them well throughout their academic and professional journeys.

Elementary
At École Morinville Public School, our team of qualified educators from Kindergarten to Grade 4 gently immerse our youngest students and prepare them for their first steps in their journey toward being fluently bilingual. Students learn their core subjects in the French language.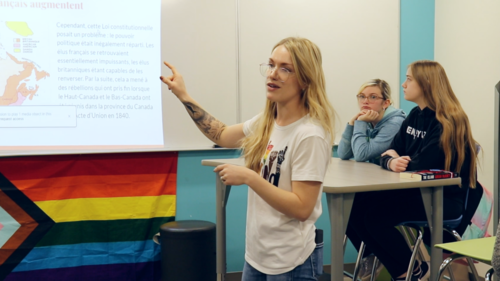 Junior High School
For grade 5-9 students, the French Immersion program is offered at Four Winds Public School―one of our newest schools located in Morinville. The program provides students with at least 50% of their instruction in French, allowing them to progress from emergent learners to fluent experts. The curriculum covers all core subjects, with the exception of English Language Arts, in the French language, providing students with a comprehensive education. Additionally, students in the French Immersion program have the added benefit of taking CTF (option) courses taught in English, and the opportunity to opt into specialized Academy streams such as the STEAM Academy, Dance Academy, and Sport for Life. These opportunities allow students to not only excel in their language studies but also to discover and pursue their passions.
High School
Sturgeon Public Schools is excited to announce the expansion of our French Immersion program to the high school level. Beginning in the 2023-2024 school year, Sturgeon Composite High School will be introducing French Immersion programming with the soft launch of French-taught courses in the Humanities Department. High school students enrolling at SCHS will have the opportunity to register for French Language Arts (FLA) 10, as well as Études Sociales 10. We are thrilled about the growth of our French Immersion program and look forward to the possibility of offering Sciences and Math in French in the future, depending on enrolment. 
FAQs for Parents/Guardians
What is French Immersion?
French Immersion is an immersion program for learners whose first language is not French. In Alberta, student's first language, their native language, is typically English. The program offers 80% French instruction for core subjects in elementary to a minimum of 50% French instruction in junior and senior high school. Correspondence to the parent/guardian is in English as it is understood that the language of the home is not French. 
How does French Immersion differ from Francophone instruction?
Section 23 of the Canadian Charter of Rights and Freedoms guarantees French language instruction to francophone students whose first language is French. The native language of the learner is French. In a Francophone program, all courses, cores and electives, are taught in the French language and correspondence to the parent/guardian is in French.
Does Alberta have a French Immersion High School diploma upon graduation?
Alberta does not currently offer a bilingual diploma, however, courses taken in the French language are identified on a student's transcript. Should a student complete a course taken in French, that course will be indicated on the student's official transcript.
What is the difference between the Language Arts programs? (ie FLA, FSL, and Français)
FLA is French Language Arts for non-native French speakers. This course is completed while being a French Immersion learner.
FSL is French as a Second language, a Language Arts course for non-native French speakers taking French as an elective in a regular stream.
Français is the Language Arts course that a student completes in a Francophone school for native French speakers.
How do I help my child with their homework if I don't speak French?
Classroom assignments must comply with the curriculum outlined by Alberta Education.The qualified language teacher will progressively increase the learning tasks based on the student's abilities. Should a student require additional support, the classroom teacher and the parent/guardian will work as a team to address the needs of the learner. Parents/guardians are always welcome to speak with the teacher to collaborate on ways to assist their  child(ren) throughout their years of learning.
Can my child write their provincial exams in French OR English?
A French Immersion student can write a provincial exam in either English or French despite the language of instruction being in French, with the exception of the Language Arts exams. The transcripts of the course mark will be posted in the language of instruction. The exam will be identified in the language in which it was completed. 
For example, a French Immersion student taking Social 30 will have Études Sociales 30 as the course name on the transcript but could have Social 30 as the exam on the transcript if the student writes the exam in English.
What are Language Arts challenge exams?
A French Immersion student is able to challenge an FSL exam and receive extra credit in Language Arts. During each year of high school, the teacher can administer that respective year's FSL challenge exam. For instance, a grade 10 French Immersion student will be taking FLA 10 but can write the FSL 10 challenge exam during the year at a time chosen by the teacher. Either mark, FLA or FSL, can be used toward the Rutherford Scholarship and toward the student's grade point average (GPA). A challenge exam can be written in all 3 years of High School. However, writing the exam only in the last year, Grade 12, does not give a retroactive mark for grades 10 and 11.
What is the DELF exam?
The Diplôme d'études de Langue Française is a series of exams administered to non-native French speakers as a method to measure a standard of comprehension based on the CERF. The exams can be taken as early as elementary level. The exam comprises 4 components of communication: reading, writing, listening, and speaking. A passing grade of 50% on each skill is required to be awarded the diploma. At Sturgeon Public Schools, students in grade 9 are eligible for the B1 diploma and students in grade 12 typically complete the B2 level. A student at the B1 level can converse independently and can maintain a conversation. A student at the B2 level gives evidence of fluency, independence, and spontaneity in regular interactions.
What qualifications must a French Immersion Teacher at Sturgeon Public Schools have?
A teacher applying for an available position in French Immersion at Sturgeon Public Schools must meet the minimum requirement of a B2 level competency. In addition, the shortlisted candidate completes an oral and a written component during the interview process.