Technology Services How-To Directory
Creating a ticket for technology related questions or concerns is as simple as sending an email!
Below you will find the answers to the most commonly asked questions. If you have a question not covered here, please send an email to tech@sturgeon.ab.ca, and this will create a ticket in our system. A representative from our department will respond to your request as soon as possible.
To expedite your service, please include the following:
A descriptive email title.
Your name and location.
If applicable, the name and type of device you are using, and the browser you are using.
For staff password resets, please include your Employee ID number to verify your identity.
For procurement requests, a GL code is required.
For program related concerns, it is helpful if you have already rebooted your computer to see if that solves the issue, before creating a ticket.
Rebooting Your Computer
Restarting/rebooting your computer is more than just closing the lid of your laptop or having your monitors go to sleep. It means completely shutting down and restarting your device.
It is important to completely reboot your computer on a regular basis. This allows for scheduled updates to be automatically installed, and keeps your cached data to a minimum.
Rebooting your system takes just a few simple steps:
Click the Windows Icon in the bottom left corner of your screen, then click Power.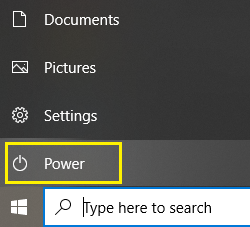 Click Shut Down if you wish to close all apps and programs and leave your device off, or
Click Restart to close all apps and programs, completely turn off your device, and have it turn back on, ready for you to sign in. This initiates any pending updates and is highly recommended to perform every week, or even better, at the end of each work day.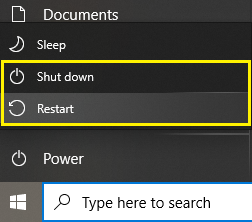 Performing this task on a regular basis is one of the best ways to keep your programs running efficiently.
Check Which Network you are Joined to
If you find that you do not have access to all of your network files or folders, are unable to print, or that you have limited functionality, it is possible that your device is connected to the open wireless network.
To check which network you are connected to:
Check the lower right corner of your desktop for an icon that looks like a computer monitor. This means you currently have a hard-wired connection to the internet, which is the desired connection for optimal performance.

If you do not see the icon above, you should instead see the wi-fi connection icon. This means you currently have a wireless connection to the internet.

Click on either icon and a list of the available networks will pop up, indicating which Network you are connected to.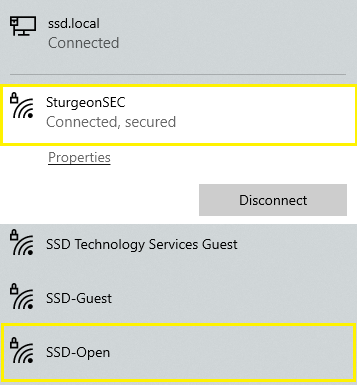 Staff should always connect to SturgeonSEC.
Students can only connect to SSD-Open
If you are not connected to the correct network, click on the network you wish to connect to, and it will attempt to reconnect.
If you cannot successfully connect to your network, please submit a ticket for assistance.
How to access PowerSchool SIS
All Division issued devices will have PowerSchool SIS Admin and PowerSchool SIS Teacher shortcut icons on their desktop by default. Simply click on these to access the PowerSchool SIS login page.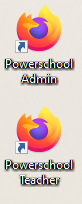 Alternatively, you can enter sps.powerschool.com/admin or sps.powerschool.com/teachers in the web browser to access the log in screen.
Remember - Firefox is the preferred browser for PowerSchool SIS and all associated programs. (SchoolMessenger, CLEVR, etc.)
Do a Policy Refresh
A policy refresh will ensure that on the next reboot, the user will receive all updated policies, which includes software/printer deployment, and access to required files and folders.
 To perform a policy refresh:
Double click Policy Refresh / Policy Update icon on the desktop.

Follow the instructions in the pop-up window. You may be instructed to restart your computer once the refresh is complete, in order to apply the changes.
Forward your Gmail (@edu) emails to your Microsoft Outlook Inbox
 All Sturgeon staff members have two email addresses:
firstname.lastname@sturgeon.ab.ca (Microsoft Outlook)
firstname.lastname@edu.sturgeon.ab.ca (Google Gmail)
To eliminate having to check both email inboxes, you can forward your Gmail emails to your Microsoft Outlook inbox.
To do this:
Log in to your Gmail inbox by clicking on the waffle icon in the Chrome Browser, then clicking the Gmail icon




Click on the Settings Gear icon, then click See all settings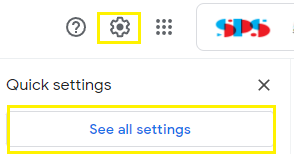 In the settings menu, click on Forwarding

Click on Add a forwarding address any type in your Microsoft email address. (firstname.lastname@sturgeon.ab.ca)

Now, select the radio button next to Forward a copy of incoming mail to, and then select your Sturgeon email address from the first drop-down.


In the second drop-down, choose the option you prefer:


keep Sturgeon School Division Mail's copy in the inbox will leave the message unread in Gmail.
mark Sturgeon School Division Mail's copy as read will set the email as read in Gmail after it has been forwarded.
archive Sturgeon School Division Mail's copy will move the message to the archives after it has been forwarded.
delete Sturgeon School Division Mail's copy will move the message to the trash after it has been forwarded.



When ready, click Save Changes


Your Gmail messages will now be forwarded to your Microsoft Outlook inbox!
What to do if a Microsoft application unexpectedly is not activated. (Word, Excel, Outlook, etc.)
If you unexpectedly cannot access Word, Outlook, Excel, or another Microsoft application, it means you are not currently signed in to any Microsoft Applications, and therefore your license cannot be applied to verify your subscription.
If you get a message stating your product is unlicensed, or activation is required, follow the steps below: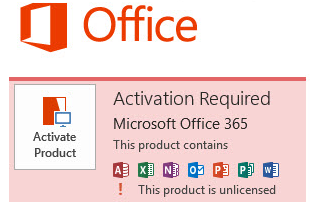 Open any Microsoft application, i.e. Word.
Click on Account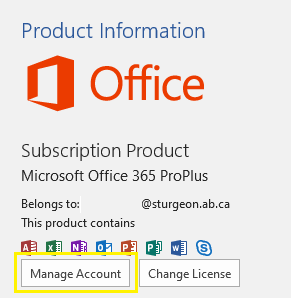 Sign in with your Microsoft credentials.