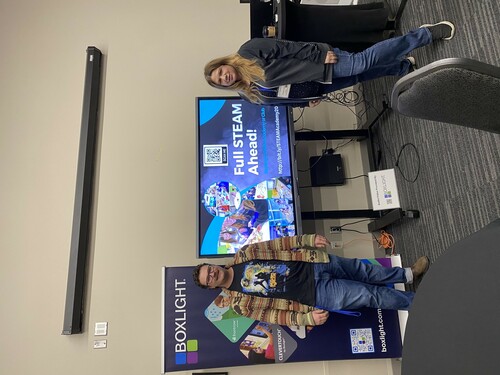 At the recent ATLE Convergence Conference in Calgary, the spotlight shone brightly on the innovative educators of Sturgeon Public Schools. From October 11 to 13, a dynamic trio of presenters, Christina Dafoe from Four Winds Public School, and Konnor Wood and Byron Semenchuk from Gibbons School, showcased their dedication to advancing STEAM (Science, Technology, Engineering, Arts, and Mathematics) education.
Full STEAM Ahead
In their first presentation, titled 'Full STEAM Ahead,' Christina and Konnor delved into the remarkable successes of their respective STEAM academies. These academies have become beacons of innovation and excellence, offering students a unique and engaging learning experience.
But it wasn't all about sharing success stories. The Sturgeon Public Schools team was determined to empower other educators with the tools and inspiration they needed to kickstart their own STEAM clubs and academies. The presenters passionately promoted the idea that every school could create a nurturing environment for STEAM education.
Not only did they advocate for STEAM programs within their division, but they also extended their reach to teachers from across Canada. Their dedication to sharing their insights with fellow educators reflects the collaborative spirit that drives Sturgeon Public Schools.
The STEAM Playground
The excitement didn't stop there. The team also hosted a hands-on 'STEAM Playground' during the conference, providing an immersive experience for educators eager to explore the world of STEAM. At the 'STEAM Playground,' attendees could engage with a variety of stations that showcased the activities regularly undertaken in the Sturgeon Public Schools' STEAM programs.
Byron led a group through the intricacies of soldering, while Christina introduced attendees to the fascinating world of robotics. Konnor, with his expertise in design and 3D printing, answered numerous questions and ignited the creative spark in many.
The positive reception of both presentations underscored the importance of STEAM education in our schools. The innovative approaches championed by Sturgeon Public Schools are not only enriching students' educational journeys but also inspiring educators nationwide.
A Bright Future for STEAM Education
As educators across the country continue to explore ways to enhance their teaching and inspire students, Sturgeon Public Schools' shining example at the ATLE Convergence Conference serves as a beacon of hope and innovation.
The dedication of Christina Dafoe, Konnor Wood, and Byron Semenchuk, along with the support of Sturgeon Public Schools, is making a significant impact on the future of STEAM education in Canada. Their passion and commitment to sharing their knowledge and experience will undoubtedly lead to a brighter, more exciting future for educators and students alike.
The presentations at the conference emphasized that when it comes to STEAM education, we should all be saying, "Full STEAM Ahead!"